Legal Aid for the Last Person Detained after the 2020 Samos Campfire
Of the five people charged for setting a fire in a refugee camp on Samos in early 2020, now, one person still remains in prison. The Human Rights Legal Project is taking on his case for freedom. The Sea-Watch Legal Aid Fund is proud to cover the legal costs to contribute to a fair defence for BA who is found guilty while the Greek government continues to deny people on the move their basic human rights.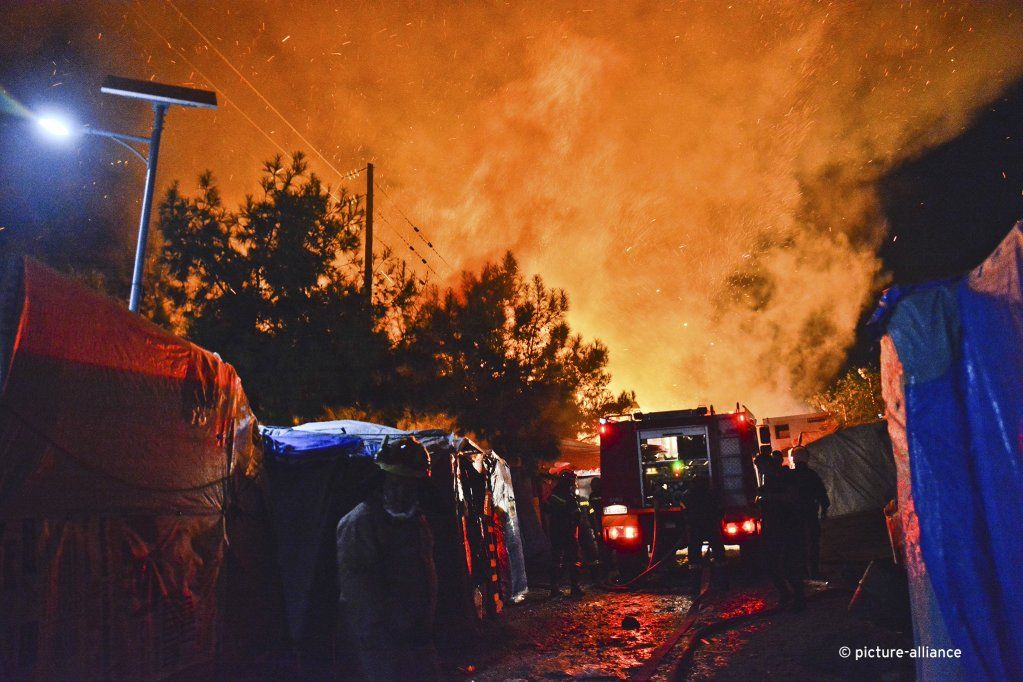 Image Credits: Picture-alliance/AP Photo/Michael Svarnias
Two and a half years ago, in April 2020, a fire broke out in Vathy refugee camp on Samos. At that time, the camp was housing multiple times more people that of what the camp was designed to host. While official numbers say 4500 people lived in the space set out for 650 people, local groups estimated the numbers to be closer to 7000. The residents' right to health and housing were gravely neglected as Vathy camp counts to the most overcrowded and unsanitary camps in Greece. People had to face the Covid-19 pandemic that was raging in the camp. In the overcrowded camp with scarce resources, tensions among the residents' communities were high – which is not unexpected when people are forced to live in such vile conditions and denied being met with dignity and respect. In a fight between communities over the electricity supply on the 26th of April, a fire broke out.
Ten residents were accused of rioting and setting the fire of whom five were met with charges ranging from fees to imprisonment. The solution that was opted for was to detain those who are seen as causing insecurity in the camp. However, the inhumane and unsafe living conditions of the camp prevail. Lack of access to basic services, such as medical treatment, education, food, electricity, and adequate housing, continues to mark the lives of people seeking asylum in Greece. The lack of accountability for the inhumane conditions for refugees, asylum-seekers, and migrants in Greece is systematically expanded in a hostile strategy for people on the move.
Now, in late 2022 and after two and a half years, BA is the last one to still be detained. He is denied years of life during which other people have their asylum applications approved, continue their education, find formal or informal work, or start a family. The Human Rights Legal Project is supporting BA in regaining his freedom after years of imprisonment. We are proud and humbled to cover the legal fees for his case and to contribute to a fair defence for those who are being left to fight for themselves by a system that criminalises people on the move and in precarious conditions rather than addressing those responsible for those conditions.
Do you want to support the defence of BA and the continuing struggle for freedom and justice? Then you can donate here.