Seizure of IUVENTA and prosecution of its crew
In August 2017, one of the first civil sea rescue vessels was confiscated: The IUVENTA of the organisation JUGEND RETTET e.V.. One year later it becomes known that 10 former crew members are also being investigated. Even after three years, there is still no verdict - in 2020 the campaign work is financially supported by the Sea-Watch Legal Aid Fund.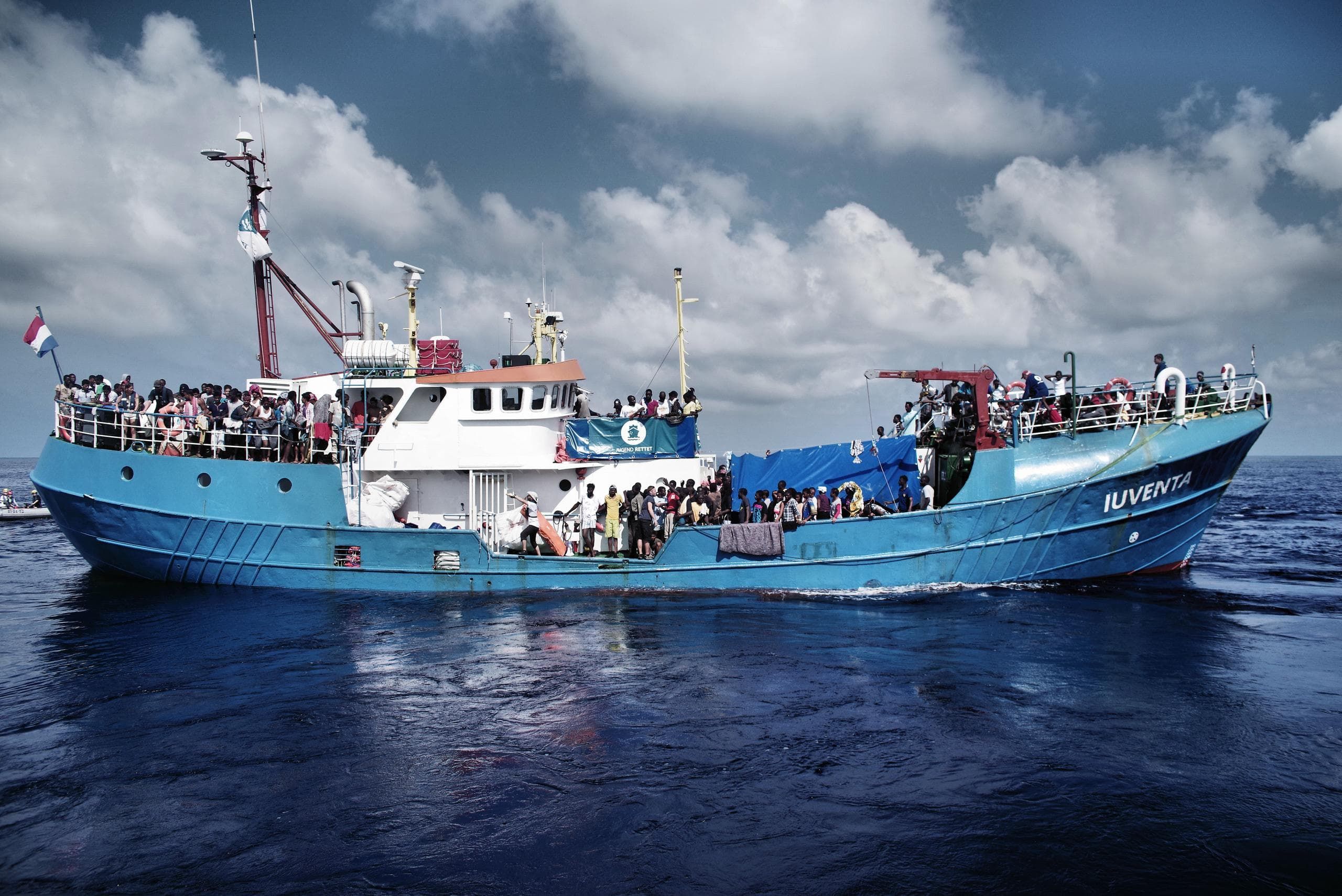 On October 3, 2015, the association JUGEND RETTET e.V. was founded as a network of young people with the aim of "counteracting the humanitarian catastrophe on the Mediterranean and the collective political failure at European external borders". Its sea rescue ship, the IUVENTA, rescued over 23,000 people in a total of 16 rescue missions in the Mediterranean between August 2016 and August 2017.
On August 1, 2017, the Italian Maritime Rescue Control Center ordered the IUVENTA to Lampedusa, where it was "preemptively" confiscated by Italian authorities. According to the Italian authorities, this was a precautionary measure to prevent the possible future use of the ship for criminal purposes. On the previous day, the NGO had refused to sign the Italian government's Code of Conduct, which at best would have been redundant, and at worst endangered their humanitarian work. A year later, in July 2018, it became known that the Italian public prosecutor's office had extended its investigation to ten former crew members of the organisation.
They were alleged to have aided and abetted illegal immigration and cooperating with smugglers in three rescue missions. The evidence is thin, the defendants deny these allegations and an analysis of the facts by Forensic Architectures and Forensic Oceanography provides evidence of the innocence of the crew and the organisation.
The IUVENTA was one of the first civil sea rescue vessels to be confiscated, many others followed. These legal measures, against the NGO, and directly against its crew members, are thus marking the beginning of the criminalisation of sea rescue as a political calculation to seal off Europe. After more than three years, the investigations against the sea rescuers were finally closed. The charges against them were filed on 4th March 2021. The accused are facing prison sentences of up to 20 years.
In 2020 Sea-Watch Legal Aid Fund provided financial assistance to Civilfleet-Support e.V., a non-profit organisation that aims to support civil sea rescue. In addition to processing and preparing for court cases, it is also responsible for campaign work to protect the rights and interests of the criminalised crew members of IUVENTA. For this purpose, evidence for the defence of those affected is sifted, processed and archived, and mediated between affected crew members, lawyers and external bodies and institutions (including ZDF, Amnesty International, UN Special Rapporteur).
The monetary contribution of the Sea-Watch Legal Aid Fund enabled the continuation of all the tasks described above to decriminalise sea rescue and its actors in 2020. Because: sea rescue is a duty - not a crime.