Legal action against Frontex before the CJEU
The Sea-Watch Legal Aid Fund is supporting an exciting, vital legal challenge led by lawyers from Prakken d'Oliveira against the European Border and Coast Guard Agency.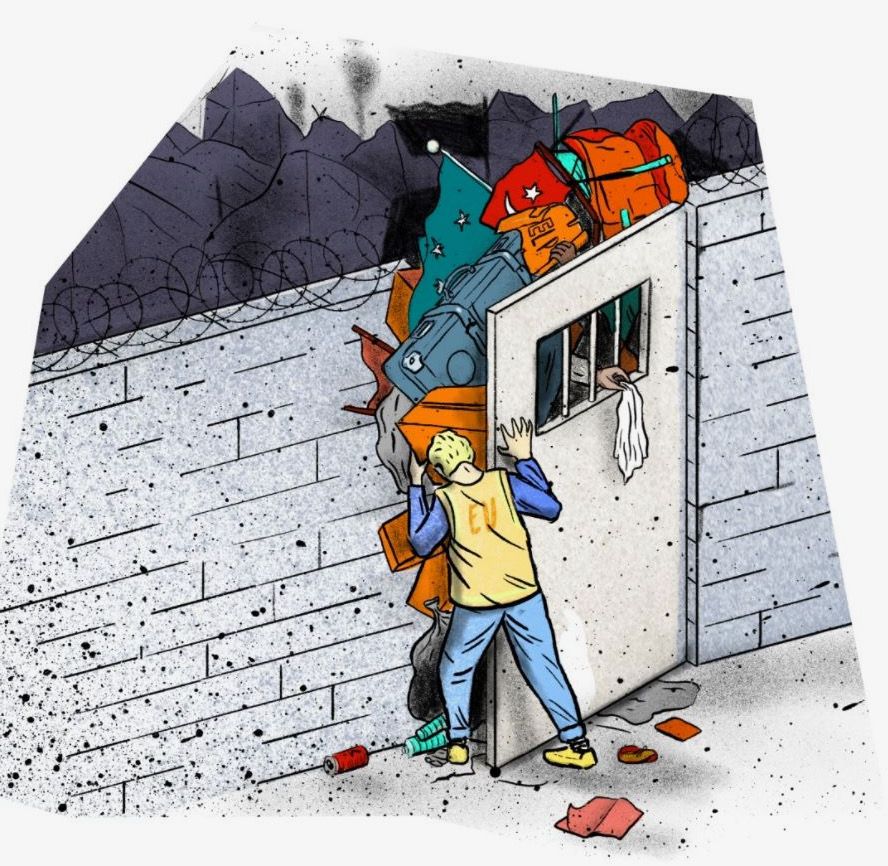 Image credits: Gemma Pauwels
Frontex is being taken to the Court of Justice of the European Union (CJEU) by a team of leading experts in the field of asylum, migration, expulsion and European law.The case, filed in October 2021, accuses Frontex of violating the principle of non-refoulement and lacking a functioning complaints procedure to be effectively held to account.
The case follows a Kurdish family consisting of a husband, wife and small children who fled Syria during the civil war. After reaching Turkey, they crossed the Adriatic Sea to Kos and arrived on the island of Milos from which they were transferred to Leros. The family applied for asylum, but a few days later, they were expelled to Adana, Turkey. Given their right to apply for asylum under international law, this return constitutes an unlawful pushback and a violation of the principle of non-refoulement. According to Article 33 of the 1951 Refugee Convention, to which Greece is a party, " No Contracting State shall expel or return ("refouler") a refugee in any manner whatsoever to the frontiers of territories where his life or freedom would be threatened on account of his race, religion, nationality, membership of a particular social group or political opinion".The same prohibition is enshrined in Article 3 of the Europan Convention on Human Rights, to which, again, Greece is a party.
During the legal team's investigations, they found evidence of collaboration and direct involvement by both, Greek authorities and Frontex in the pushback. This was the basis for launching the legal action to protest the illegal treatment suffered by the family fleeing war.
Since there are no local remedies for pushbacks in the Greek legal system, the lawyers first step was to lodge a full complaint against Greece before the European Court of Human Rights. This is a lengthy process, and the application is still pending at the time of writing. This was followed by filing an official complaint against the Frontex Fundamental Rights Officer on 1 January 2017. Despite this, Frontex remained silent. On 17 July 2018, 1 1/2 years after the initial complaint, the legal team filed a second complaint, to find the ineffectiveness of the internal review mechanism. After more than 3.5 years, Frontex concluded on the complaint. It confirmed that fundamental rights had been violated, but found that only the Greek authorities were to blame.
As part of this preparation, the legal team reached out to the Sea-Watch Legal Aid Fund for support in this, the first opportunity for the CJEU to delineate the responsibility of national authorities and Frontex. The case pursues two objectives: First, to show Frontex' failure to address and follow-up on its legal duty to protect the fundamental rights including non-refoulement, since there is evidence of the family's right to asylum being violated. Second, to make Frontex' live up to its legal duty to establish and implement an effective monitoring and complaint system. This way, Frontex will be held accountable for its responsibility to ensure that no expulsions take place which violate basic human rights - such as the right to apply for asylum. A positive decision will encourage legal representation for other, unheard people on the move at sea and on land. The case is supported by the Not on our Border Watch campaign's website.
Frontex's allegation of non-compliance with and respect for human rights and its failure to provide prompt, transparent and thorough investigations into allegedly violated human rights have made it subject to several investigative initiatives since 2020. For instance, UN Special Rapporteur, Mr Felipe González Morales, referred to numerous submissions regarding Greece and Frontex involvement in pushbacks. Similarly, LIBE Committee on Civil Liberties, Justice and Home Affairs of the European Commission underlined that "[Frontex] failed to address and follow-up on these violations [allegations of fundamental rights violations in Member States with which it had a joint operation] promptly, vigilantly and effectively". Although the said initiatives are of immense value from the fact-finding point of view, they lack enforcement power. Therefore, a legal proceeding before a neutral and impartial forum has proved essential for the development of the rule of law and the maintenance of human rights standards to delineate the responsibility of national authorities and Frontex. We believe the opportune time has come to address the systemic procedural difficulties in representing cases of pushback and the violation of fundamental human rights for people on the move.
Spotlight Borders by the Sea-Watch Legal Aid Fund is a podcast dedicated to people on the move and their supporters. The first episode of series 1 on Legal Action against Frontex is now available on Spotify, Google Podcasts and RSS.
Do you want to help? Donate here.