Legal aid granted for victims of arbitrary arrest after Samos camp fires
The outbreak of fires at a refugee camp on Samos (Greece) in 2020 has worsened the already precarious living conditions on site. It is appalling that Greek authorities have blamed camp residents for the fires, subjecting them to arbitrary arrests. The Sea-Watch Legal Aid Fund has decided to support the Human Rights Legal Project in their fight for a fair trial.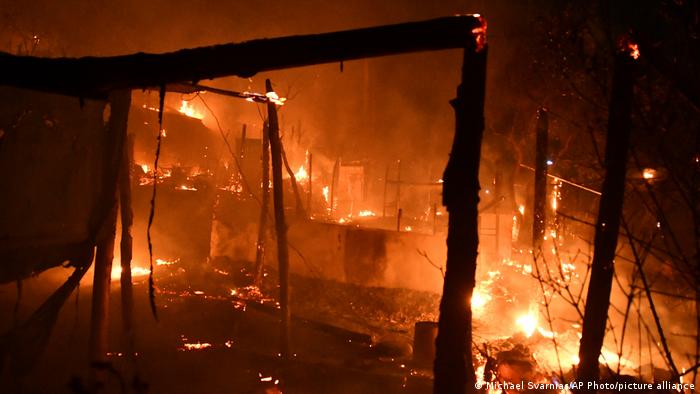 Image Credits: DW
In April 2020, a fire broke out at the Vathy refugee camp on the Greek Island of Samos, destroying many containers and tents that were the only shelter for approximately 200 people. At the time, the camp was housing almost 7000 asylum-seekers - thereby greatly exceeding its capacity of only 648 people. The Greek authorities claimed that the fires were started by camp residents because of clashes between the Palestinian and African communities.
One day after the fire, Palestinian camp resident B.A. was arbitrarily arrested based on false information connecting him to the outbreak of the fire. In the light of the pressures in the camp caused by the sheer number of residents, as well as the advent of the Covid-19 pandemic, arbitrary arrests due to supposed inter-community conflict were becoming more frequent.
The defenders of B.A. did not have enough time to sufficiently prepare for the trial and establish the actual events. B.A. was sentenced to seven and a half years of prison. After having spent one year in pre trial-custody, he has now been in prison for over two years.
B.A. is being represented by the Human Rights Legal Project (HLRP), which is undertaking a large number of criminalisation cases related to refugee camps on Samos. The HRLP is relying on external financial support not only to defend B.A. in his appeal, but also to represent seven more defendants currently detained. The hearing will take place on 4 October 2022.
The HRLP contacted the Sea-Watch Legal Aid Fund for support. We stand in solidarity with people on the move and everyone supporting them. Therefore, we are happy to cover the legal fees for the unjust legal process.
Do you want to help the Human Rights Legal Project in their fight for a fair legal trial? You can show your support by donating here.