COVID-19, a pretext for criminalisation
After Greece implemented one of the toughest lockdowns in Europe, the restrictions were lifted for the majority of the population at the start of the 2020 tourism season and not reintroduced. In the camps on the East Aegean islands, however, they continue to apply: people are only allowed to leave for very specific reasons and are effectively locked up.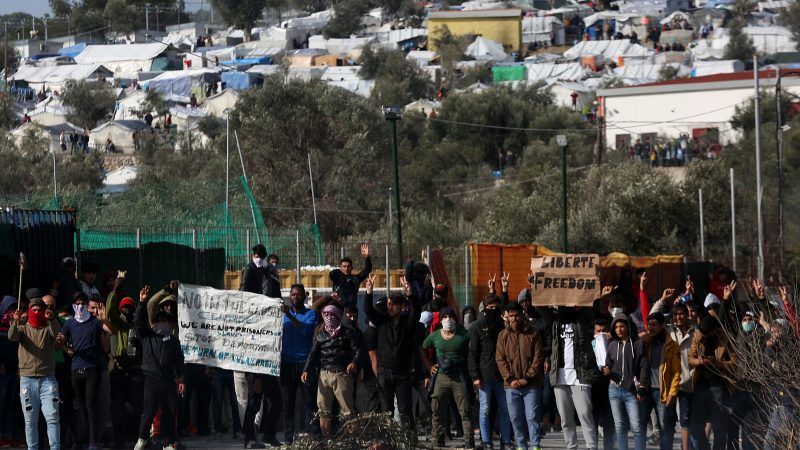 Photo Credits: Orestis Panagiotou
Greece carried out one of the toughest lockdowns in Europe, each person was only allowed to leave the house if a text message stating one of seven reasons was sent to a central number. The lockdown ended with the start of the tourist season for Greek nationals. However, not for people who were and are accommodated in camps. Up to this day, they are not allowed to leave the camps, or only for strictly regulated reasons, such as medical appointments. They are de facto in captivity, no matter what the Greek government calls it. In any case, the coronavirus is being instrumentalised to criminalise people.
For instance, Kos is the last deportation detention centre on the East Aegean islands, after Moria and the infamous Section B camp burnt down. Asylum seekers are detained there, as are people who have been apprehended for unlawful residence.
On Chios in particular, new arrivals are fined up to 5,000 Euro for violating the COVID-19 protocols, i.e. they could not show a PCR test or vaccination and/or had not filled out the "Passenger Locator Form". Although this may not be a "punishment" in the dogmatic sense of criminal law, but rather a misdemeanour, people are still sanctioned for certain behaviour that is obviously not worthy of punishment. These sanctions can be appealed and legal proceedings can be pursued. If one wishes to have the issues examined by the courts, one must deposit the administrative fine in advance - it goes without saying that no one has 5,000.00 EUR at their disposal.
Equal Rights Beyond Borders is an NGO working in Greece with offices in Athens, Chios and Kos, and provides qualified legal support to asylum seekers in EU Hotspots in Greece. It has been working on the issue especially on criminalisation for "violating" the COVID-19 protocols by legally representing numerous affected persons. Equal Rights Beyond Borders benefits from the financial support of the Sea-Watch Legal Aid Fund in this project.
Do you want to support us in the legal representation for people on the move having "violated" COVID-19 protocols? Then please donate here.