Campaigning from Samos: a call for Frontex to abide by law and trigger Article 46
Frontex is not fulfilling its obligation to monitor and report possible human rights violations in its area of operation. As a coalition of 7 Samos-based organisations, we have gathered evidence of this and call on Frontex to comply with EU law and leave Samos and wider Greece.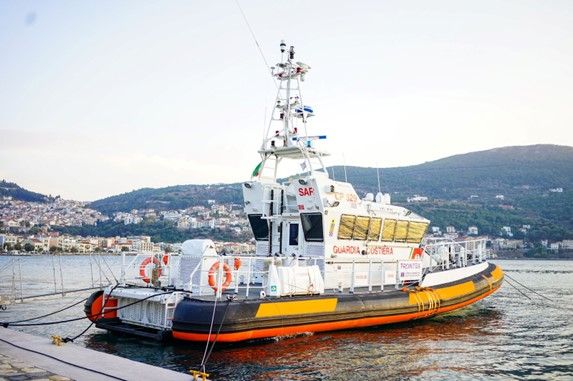 As one of the five hotspot islands in the Aegean, Samos is a key entry point for people seeking safety. For years, Samos has seen a high number of illegal and violent pushbacks where people-on-the-move are either intercepted in Greek territorial waters or apprehended after reaching the island and brought back into open waters to be left in small, life rafts without motors, or thrown into the water. Most of these cases include treatment amounting to torture and inhuman treatment such as: severe beatings, sexual violence, strip searches and the theft and destruction of belongings. In fact, according to Forensic Architecture, a research group based at Goldsmiths University of London, Samos experiences the second highest rate of pushbacks in the Aegean.
Due to the systematic practice of pushbacks from the island this year we, as a coalition of seven Samos-based organisations, launched a campaign aimed at Frontex's Executive Director ad interim Aija Kalnaja, where we called for her to comply with her obligations under EU law and, due to human rights violations, leave Samos and wider Greece. To work towards our goal, we simultaneously briefed the European Parliament Committee on Civil Liberties, Justice and Home Affairs (LIBE) and initiated a public campaign for the wider public and civil society.
How it Started
In July 2022, Kalnaja stated in the European Parliament that according to her "gut feeling" Frontex's presence in Greece is conducive to better compliance with human rights. For us on Samos, this statement both stood in stark contrast with our collective experiences of working on the island, and also seemed to disregard clear evidence that attests to Frontex's direct involvement in pushbacks and its practice of turning a blind eye to Greece's use of pushbacks. We therefore decided to brief Kalnaja on the reality of pushbacks from Samos and remind her of her legal obligations as the Executive Director ad interim of Frontex.
Calling for Frontex to obey EU Law
Days after Kalnaja's statement, we addressed a letter of concern to her pointing to publicly available evidence presented by journalists and researchers documenting pushbacks from Samos and even proving Frontex's involvement in some of them. We also reminded her of Article 46(4) of the EU Regulation 2019/1896, the regulation which governs Frontex, which states that the Executive Director is obliged to:
[…] withdraw the financing for any activity by the Agency, or suspend or terminate any activity by the Agency […], if he or she considers that there are violations of fundamental rights or international protection obligations related to the activity concerned that are of a serious nature or are likely to persist.
In our letter we highlighted how the systematic practice of pushbacks from Samos, which include severe and grave human rights violations, clearly fulfils the criteria set out in Article 46(4). We therefore asked Kalnaja to fulfil her legal obligation and "trigger Article 46 of the European Border and Coast Guard (EU) Regulation 2019/1896 and take first steps towards terminating operations and operational support in Samos and in Greece." To date we have not received an answer to our letter of concern.
Serious Incident Reports
Together, we filed several Freedom of Information requests to Frontex to receive access to all Serious Incident Reports (SIRs) for the Samos operational area since 2016. SIRs are the internal mechanism created to monitor serious incidents that must be filed by Frontex employees. SIRs can be divided into three categories, with "Category 1" reports describing potential violations of "fundamental rights or international protection obligations". For Category 1 SIRs, the Frontex Code of Conduct, obliges "every officer who has a reason to believe fundamental rights of any person were violated, either by witnessing such violation directly, or by hearing about it, to report this immediately to Frontex in form of a Serious Incident Report" [emphasis added]. Potential pushbacks fall under this category. Crucially for Article 46(6), SIRs are evidence which could point to fundamental rights violations "that are of a serious nature or are likely to persist". Our thoughts were that if, as Kalnaja claims, Frontex's presence improves human rights protections, then Frontex must, as a minimum, be monitoring potential human rights violations. We would therefore expect to see multiple Category 1 SIRs when our freedom of information request was granted.
Yet, once we gained access to all SIRs filed since 2016 from Samos, not only did no SIR refer to pushbacks but also, as of 2019, no Category 1 SIR had been reported. However, for the same time period, we could identify at least 34 incidents, including well documented pushbacks, that fit the Category 1 SIR criteria. We therefore had new evidence to suggest that Kalnaja's claims that Frontex's presence is conducive to greater respect for human rights were unfounded, and to continue our call for her to fulfil her obligations as per Article 46(4).
Using this evidence, in the beginning of October we sent briefing packs to members of the LIBE Committee. The LIBE Committee monitors the respect of civil liberties and human rights, as laid down in the EU Charter of Fundamental Rights within the European Union and takes an important role in ensuring the EU Parliaments scrutiny role over the agency. In 2021, they published a report with detailed recommendations on how to improve accountability and transparency within Frontex, the highest funded EU-Agency. The Committee later decided in September 2022 to withhold funding from Frontex due to the findings of the then still classified report of the European Anti-Fraud Office (OLAF). To support their work in holding Frontex to account, we provided the LIBE Committee members with our evidence from Samos, called for the Committee to maintain the withholding of the discharge of Frontex's annual budget and requested that Article 46 be triggered.
As part of the public element of our campaign, we ran a five-day Twitter campaign explaining Article 46 and SIRs, including our evidence of the systematic underreporting by Frontex. Based on documented pushbacks from Samos and the wider Aegean we highlighted why Frontex is obliged to trigger Article 46 and leave Samos.
Neither 'Practices of the Past' nor Individual Misconduct
Days after our campaign, the German watchdog Frag den Staat in collaboration with Der Spiegel leaked the OLAF report that in April 2022 led to the resignation of the previous Executive Director, Fabrice Leggeri. Since then, Frontex has been under increased pressure. In response to the leak, Frontex released an official statement claiming the reported misconduct as offences of individuals and "practices of the past". It is however important to understand that the practices revealed by the OLAF report, like "not […] compliance with the applicable Standard Operating Procedures on Serious Incident Reporting" or not "taking any actions in relation to the scope of the Article 46 of the FRONTEX Regulation (EU) 2019/1896" are not wrongdoings of individuals. This is despite the fact that the OLAF report provides an extensive insight into how the agency witnessed pushbacks on multiple occasions and how the Management Board isolated the Fundamental Rights Office completely.
Based on mounting evidence, we dispute Kalnaja's claim that Frontex's presence is conducive to greater respect for human rights. Along with others, we continue our call for the Executive Director ad interim or her successor to fulfil her obligations as per Article 46(4) and leave Samos.
Triggering Article 46 is not optional, it is a legal obligation.
About the Author: This article was written by one of the seven campaigning organisations.